We provide CPD (continued professional development) presentations around the world, presented by our experience presenters. 
Our team consists of experienced ex firefighters, who have dealt with the tragedies and effects of a fire first hand. 
All of our CPD's are catered to for yourself, at a location of your choice, alongside a free lunch provided by iMist. 
Jeremy Zemlicka
Fire Fighter
Jeremy has been a firefighter since 2015, and is still currently a volunteer alongside working with iMist. 
In his time as a firefighter, Jeremy has obtained: Firefighter 1 and 2, HazMat operations & EMR qualifications and continues to work towards his EMT and fire investigator certification.
Eddie Sibley
Fire Fighter
North-East England Co-Ordinator
Eddie served as a whole time firefighter for 10 years with the last 18 months spent as a Temporary Crew Manager with White Watch. He also had a brief spell as a Firefighter with Red Watch before joining iMist in 2018.
He is a qualified FRU technician, Swift Water Rescue Technician and Large Animal Rescue AR2.
Steve Newman
EngTech, MIFireE
Steve joined the London Fire Brigade in 1976, serving for 29 years. He worked in various roles, including; Operational Firefighter, Fire Safety Inspecting Officer, Fire Investigation Officer, Command Staff Officer, Head of a Borough Fire Safety Team & Course Director, before retiring in 2005. 
After retirement, Steve had his own Fire Consultancy business before joining iMist in 2017. 
Robert 'Bob' Rearie
GIFirE
Bob has been in the fire service since 1990, working across several disciplines, from Operations, Fire Safety, Learning & Development, including Station, Senior & Lead Officer over his 30 year service.
He has worked with training new fire service recruits, as well as working on Fire Service guidance and procedure documents, before retiring his uniformed role in April 2018 and joining iMist in 2019. 
Tim Andrews
BSc (Hons) Bldg. Surv
UK Business Development Manager
Tim has been working with developing fire suppression systems & fire engineering since 1999, with an impressive career over 20 years, alongside a HND in Building Studies and an honours degree in Building Surveying.
He joined the iMist team in 2018, and has been a vital part of our growth.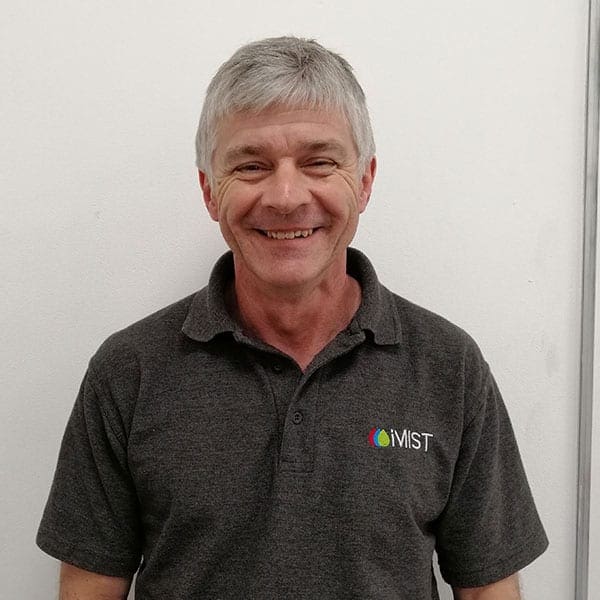 Stephen started a career as a general contractor, before transitioning to a sales representative for a building material supplier. 
Holding a certificate for construction electricity from L.A. Wilson Tech, and being a member of the NFPA, Stephen is a vital part of the iMist USA team. 
North Carolina Co-Ordinator
Pete has previously worked as a volunteer firefighter, and served in the United States  Coast Guard. 
He joined iMist at the beginning of 2019 as a Sales Manager, and has shown continued growth in North Carolina. 
Joseph is an experienced Business Development manager, with experience in Silicon Valley and Los Angeles. 
Intrigued by the benefits of fire suppression,  he joined iMist in 2018 to help build our brand in Los Angeles.