Fire Suppression for Homeowners
With over 109 years of combined engineer experience, and over 5,000 completed installations across the UK, iMist guarantee to know the solutions to all your fire suppression problems – all with no hidden costs or surprises, free 24 hour designs and free site survey.
Over the last few years, iMist have developed a cost-effective fire suppression system that is environmentally friendly. The system uses 80% less water* than traditional fire sprinklers, and as a result causes less damage to your home and belongings if activated. iMist have worked hard to obtain and pass all of our accreditations and certificates.
Our iMist fire suppression system has been made in Britain and designed in-house with our customers in mind. Our aluminium nozzles are discreet and available in any RAL colour to blend in with your home. The flexibility of our iMist custom hydraulic pipework means we can retrofit into existing buildings, without disrupting or inconveniencing occupants. All this is supported by an iMist pump unit small enough to fit in a kitchen unit, and only uses a fraction of the water to negate the need for a tank.
iMist is one of the most thoroughly tested and accredited water mist systems in the UK.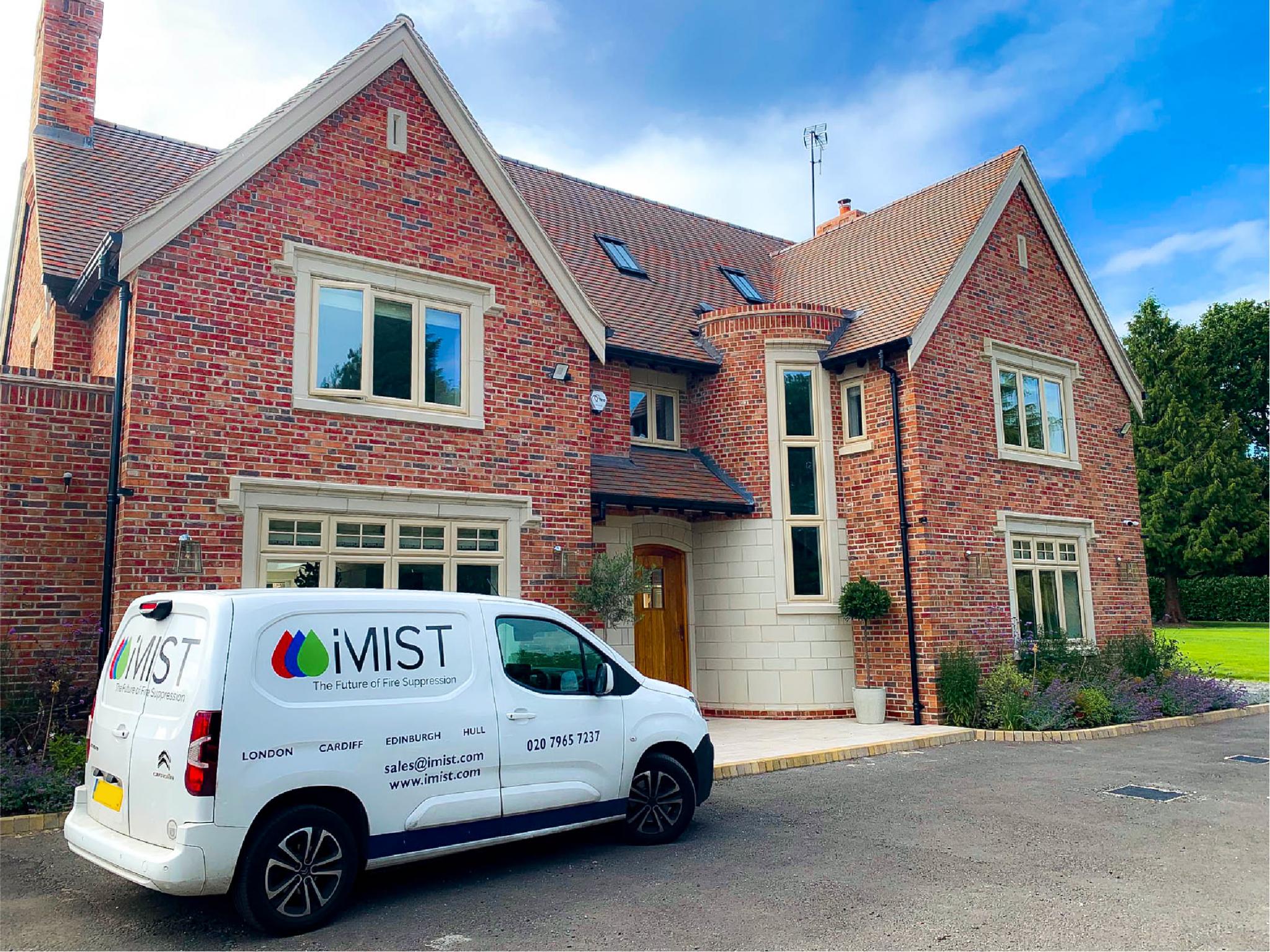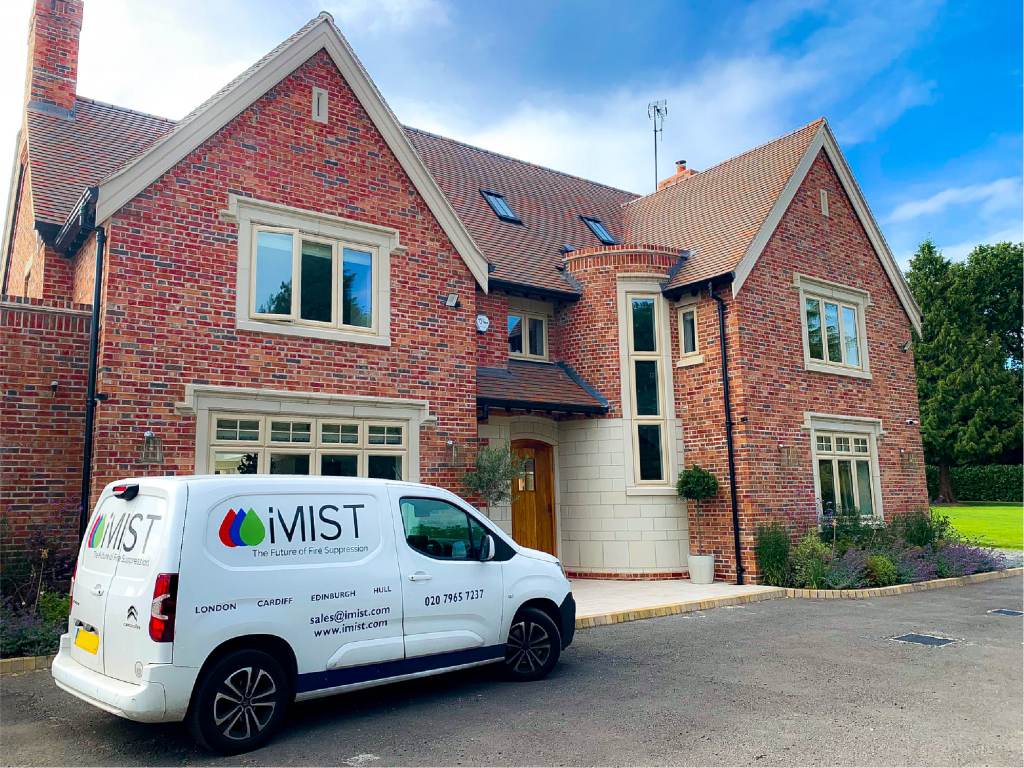 Why do I need a fire suppression system?
iMist have designed and installed 5,000 iMist systems to date, into domestic properties across the UK.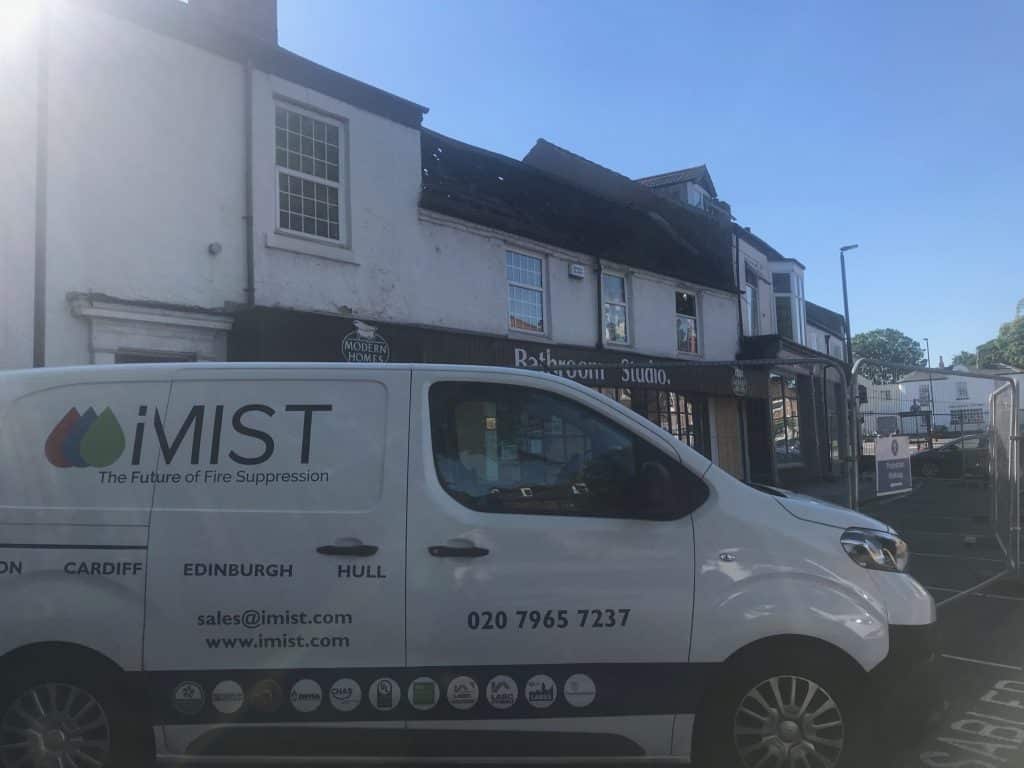 It is a legal requirement to maintain life safety equipment, and failure resulting in systems, not activation could result in criminal proceedings under: 
'The Regulatory Reform (Fire Safety) Order 2005 England and Wales or The Fire Safety (Scotland) Regulations 2006'
BS 9991 states that you must have an Automatic Water Fire Suppression System (AWFSS) in certain instances such as the following; 
6.5.2 Loft Conversions 
Open plan arrangements on the ground floor are permissible should AWFSS be installed throughout, in conjunction with a fire resisting partition and door at the first floor level.
9.7 Open Plan Layouts
Open planned flats are permissible with a fully fitted AWFSS
The average response time for fire brigade is 8 minutes and 49 seconds.
There were a total of 182,491 fires
attended to in 2019
A total of 268 fatalities and a total of
7, 128 non-fatal injuries in 2019
38% of smoke alarms do not sound during a fire.
Homeowner Benefits of Choosing iMist
iMist Water mist fire suppression systems are gradually becoming more recognised by homeowners and property developers. Made in Britain, our fire suppression systems are increasing in popularity due to the ease of the system, the environmentally friendly aspect and less damage if activated, especially when compared to fire suppression alternatives.
Our iMist designers will get your quotations and design package returned to you within 24 hours and for FREE to ensure a speedy, efficient start to your project.
When we send you a quote for our system, this is the price you will pay for the components required. There are no hidden extras and no sudden surprises.
Following your acceptance of our design package, a FREE site visit will be required before commencing works, and formal signing of contracts.
We're the only company that offers up to 15 years warranty with each iMist installation to give you peace of mind that your system is constantly protecting you and your family.
We have worked hard to obtain and pass third-party accreditations and certifications for installations, designs and manufacturing such as BSI to ISO 9001:2015.
Everything is completed directly by iMist engineers, who have been fully trained in-house. From quotations to servicing, you will always deal with iMist.


The iMist Process for Homeowners
We aim to keep our entire process simple and stress-free for homeowners.
From your initial inquiry and installation to yearly servicing and updates.
We have offices in multiple locations, so finding your local iMist office is easy. Once you have sent through your initial inquiry for fire protection, a member of the iMist team will be in touch to discuss your water mist project requirements.
iMist will arrange a property visit by one of our qualified engineers. During this visit, the water mist hose routes and pump location will be discussed and agreed. Following the visit, our first fire suppression installation will be booked.
The iMist system installation process consists of two steps. An iMist engineer will arrive with high-pressure hoses and the final layout. The second fix visit involves our engineers arriving on site with the iMist nozzles and pump.
Once your iMist system has been installed, we can set up an SMS reminder for yearly services, power outage or to even alert you when the system has gone off. Giving you peace of mind when it comes to fire protection.
Fill in the details below and a member of the iMist team will contact you shortly to talk you through your unique fire suppression requirements.
Don't just take our word for it...
Dan called me before arrival, arrived right on time and did a very good job on the annual service. Dan wore full PPE and left the property very clean. I Hope he comes next year, he was excellent
I just wanted to thank you for helping to arrange the fitting of the mist system. It wasn't a straight forward fit, but with the determination of your fitters, Jacob and Tony, they got the job done! They were exceptional, professional, and positive, just what we needed. They were totally committed to getting the job done.
In an industry that requires the highest standard of installation, this is the company for you. I can't speak highly enough of them! They have been incredibly understanding throughout the project, and they have helped us with many questions and problems we have from other construction companies. I look forward to recommending them to everyone I know!
The imist system allowed our home to be the open plan that we so desperately wanted. The team were very helpful overall, the Leadtime was a few weeks but in the safety industry I would have been more concerned if they could have been with me straight away! Plus I got a great picture of their van!
I am so happy with iMist, they really took their time to explain everything to me, gave me all the documents to read over and it was such a breezy process. The engineers who installed it were lovely and professional. I was expecting it all to be more expensive than it was, but they explained that the designs and site visit was free! I 100% recommend iMist to everyone who is having an extension/ conversion, I am so impressed with their service that I had to write a review.
I would definitely recommend you use iMist, they really cared about installation at our property. At the site visit stage, we were kept updated, and talking through in some serious detail about the process. The project then started with a first fix completed in 5 hours, and a second fix completed in 3 hours. At the second fix stage we had put down new carpets, however the engineer was very careful to put on the blue overshoes and sheets to ensure there was limited dust if any. A very good experience, and I really like their deal with the recommending a neighbour! what are great idea.
We have had our imist system serviced every year for 5 years. The company has grown a lot since we started using them, but we always have a great level of service. I have to go out for the most recent service, and the imist engineer made my elderly parents a cup of tea, to save them getting up.